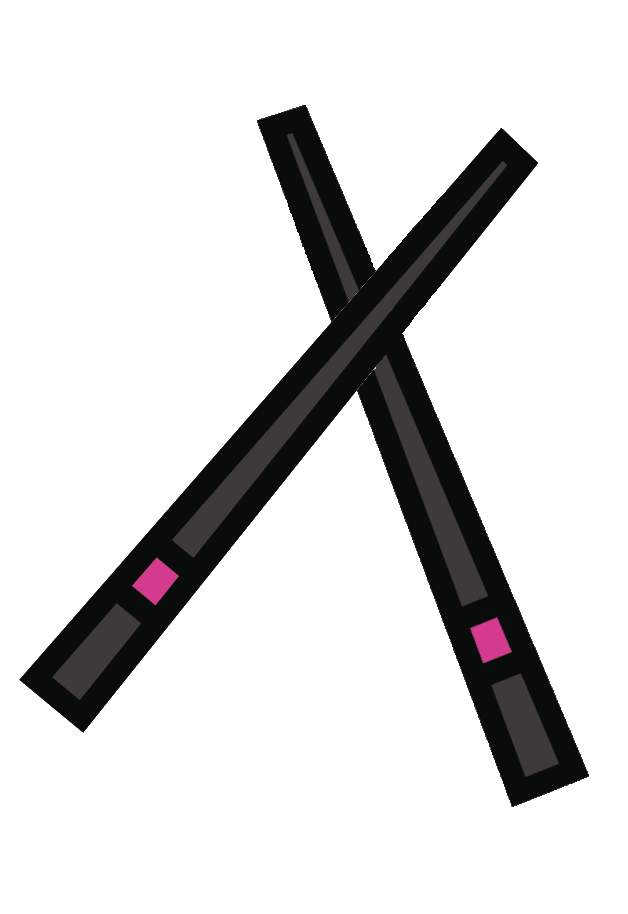 2 Korean Girls – Ghost Kitchen
Monday – Thursday
5 pm – 2 am
Friday – Sunday
1 pm – 2 am
order 2 Korean Girls from one of your favorite delivery apps – UberEats, Doordash, Grubhub, getReef
O.B. aka Original Bibimbap
오리지널 비빔밥
The Original Bibimbap that started it all for us. Nothing but respect for this classic Korean goodness. Hit it with that gochujang and then get your mix on. Made with Ribeye Bulgogi – Korean White Rice – Sesame Spinach – Marinated Mung Bean Sprouts – Sweet + Sour Radish – Spicy Potatoes – Heart-Shaped Egg – Toasted Black Sesame Seeds – Gochujang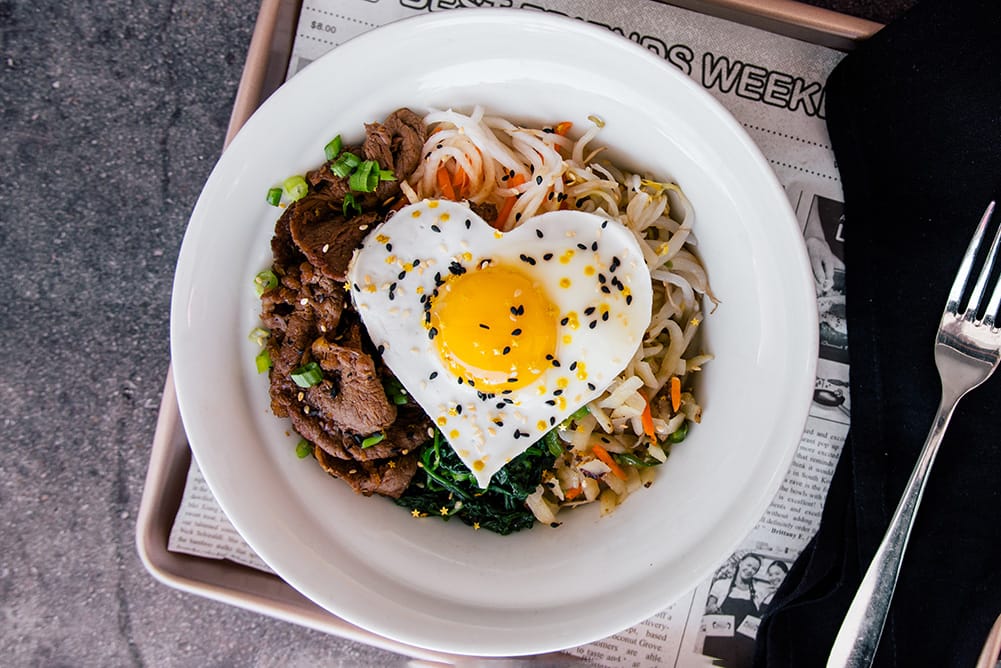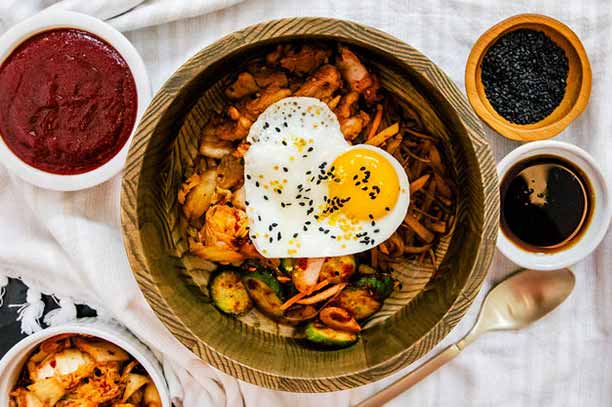 Oh, You Spicy Huh?
오리지널 비빔밥
You know, a lot of people be thinking this one's for them. This is not to get confused. This one's for the spicy few. Made with: Spicy Korean Chicken – Korean White Rice – Cucumber Kimchi – Napa Cabbage Kimchi – Spicy Potatoes – Heart-Shaped Egg – Toasted Black Sesame Seeds – Gochujang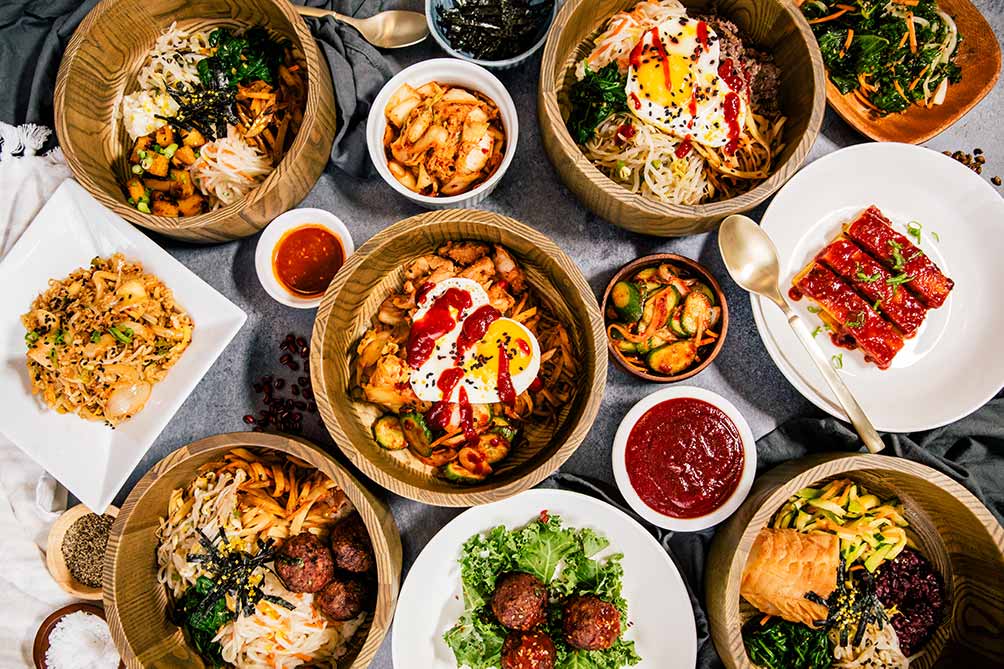 Do You 당신은
Base
Korean White Rice
Protein (choose 1)
Ribeye Bulgogi – Spicy Korean Chicken – Impossible Bulgogi Meatballs
Vegetables (choose 4)
Marinated Mung Bean Sprouts – Sweet + Sour Radish – Spicy Potatoes – Sesame Spinach – Cucumber Kimchi – Napa Cabbage Kimchi
Toppings (choose 3)
Heart-Shaped Egg – Toasted Black Sesame Seeds – Toasted White Sesame Seeds – Shredded Gim (dried seaweed) – Scallions
Sauces (choose 1)
2KG Sauce – Korean Teriyaki – Funky Sauce – Gochujang – Fire Oil
Korean Fried Chicken
한국식 프라이드 치킨
Secret seasonings, perfectly crispy, and coated in our hot hunny sauce – 2 pieces. The drumstick is the perfect meat to skin ratio. Don't @ me. We said what we said.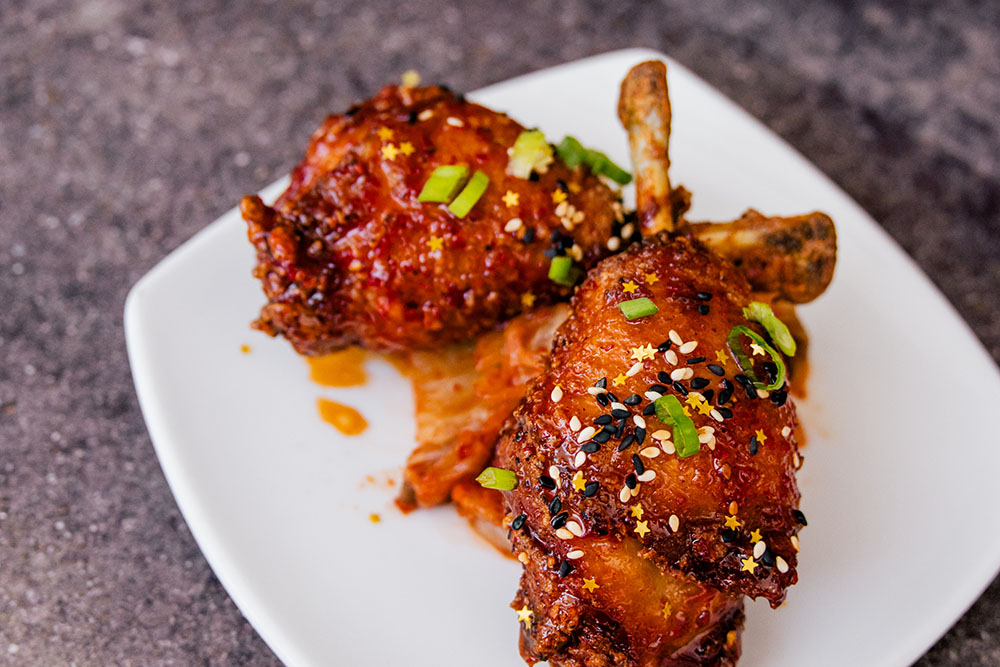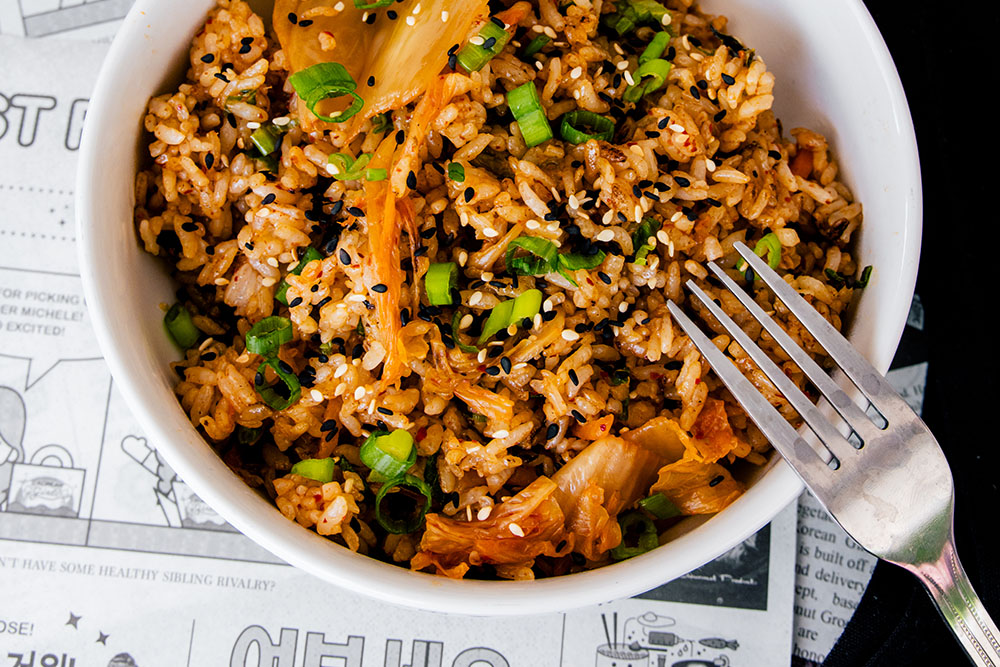 Kimchi Fried Rice
김치 볶음밥
Our homemade napa cabbage kimchi caramelized and wok-fried to perfection.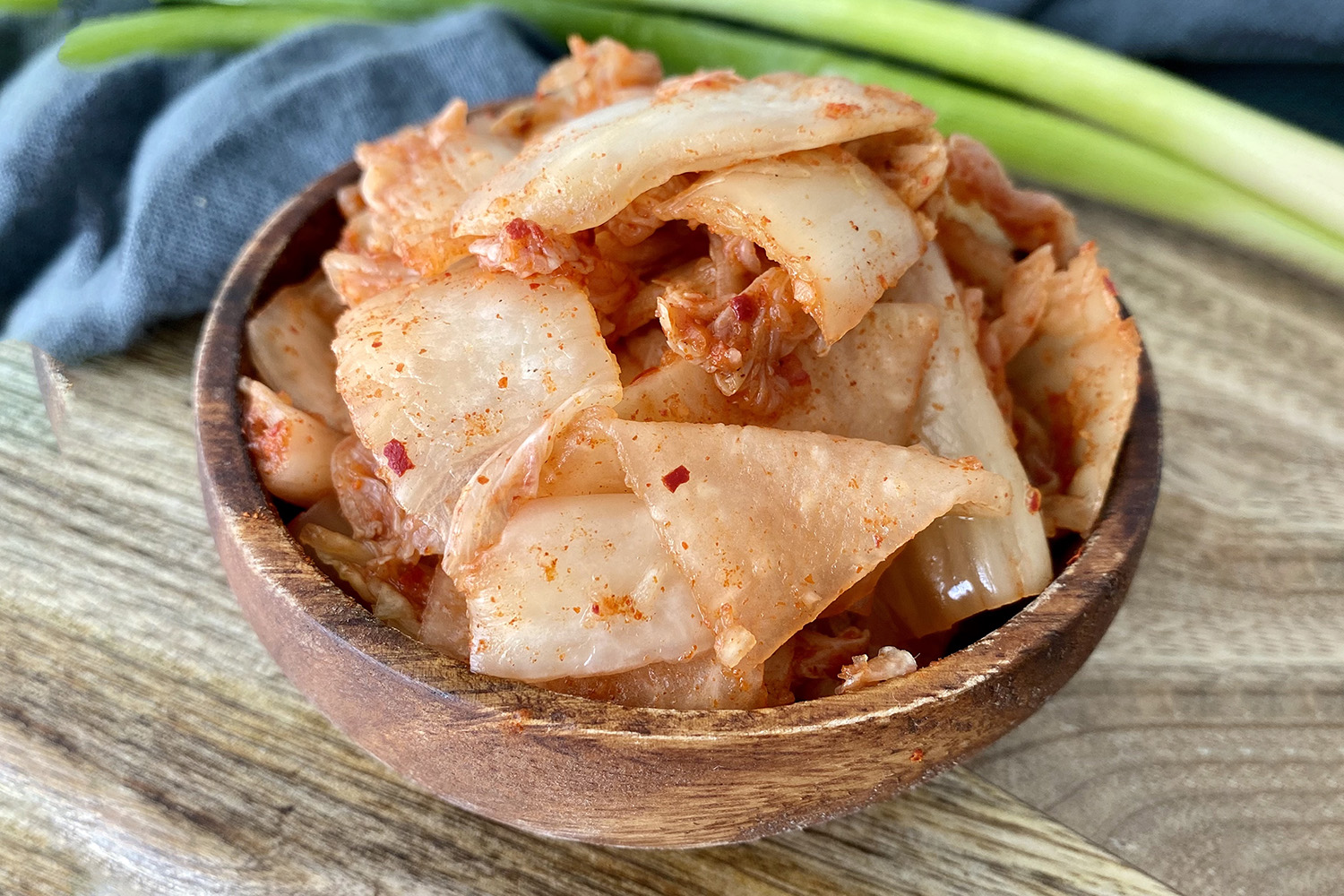 Napa Cabbage Kimchi
나파배추김치
Made fresh and in small batches using our generation's old recipe.
Cucumber Kimchi
오이 김치
Made fresh in small batches.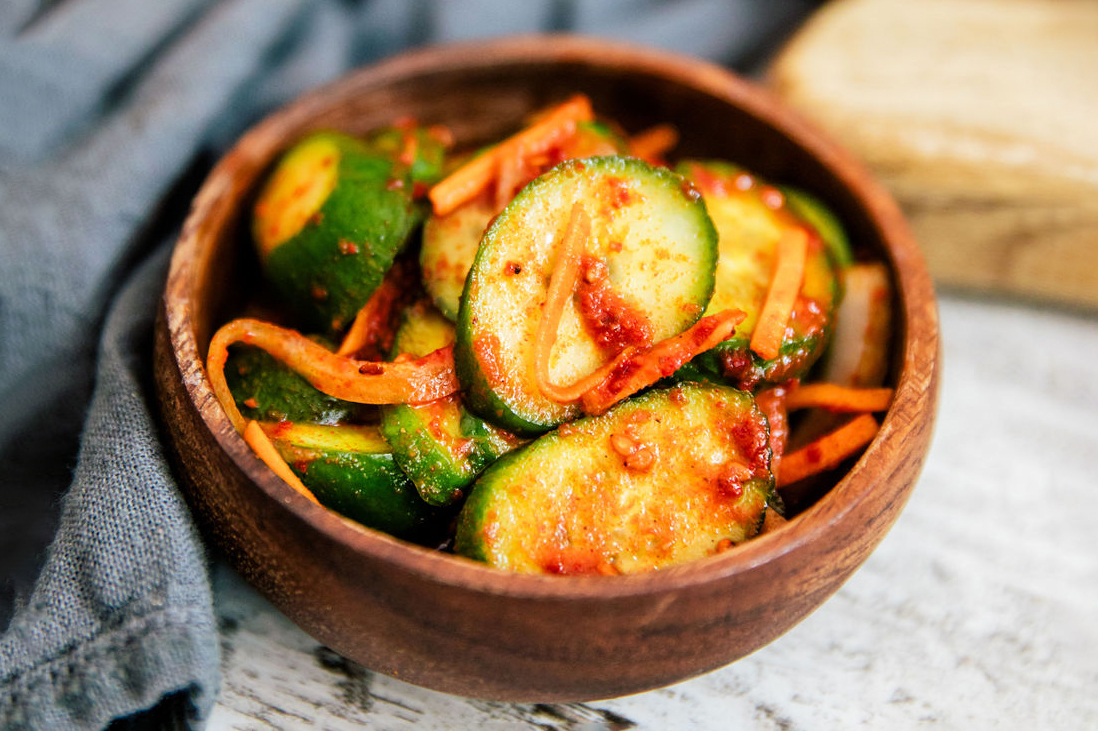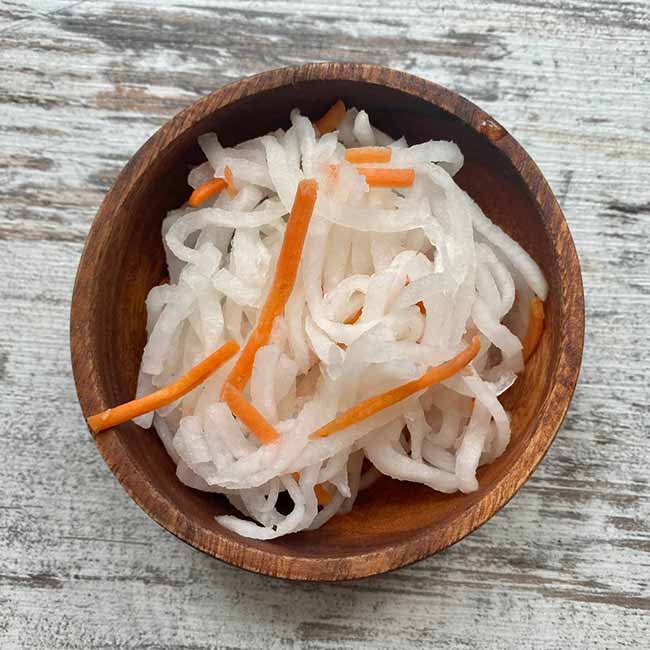 Sweet + Sour Radish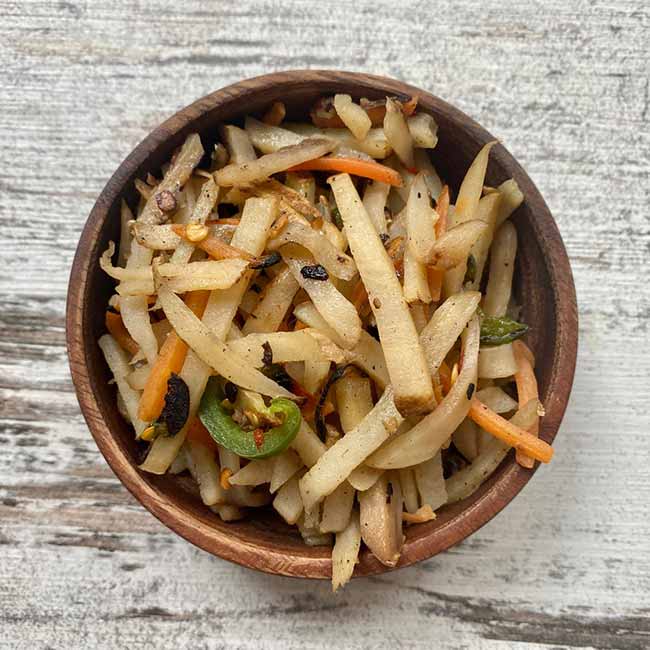 Spicy Potatoes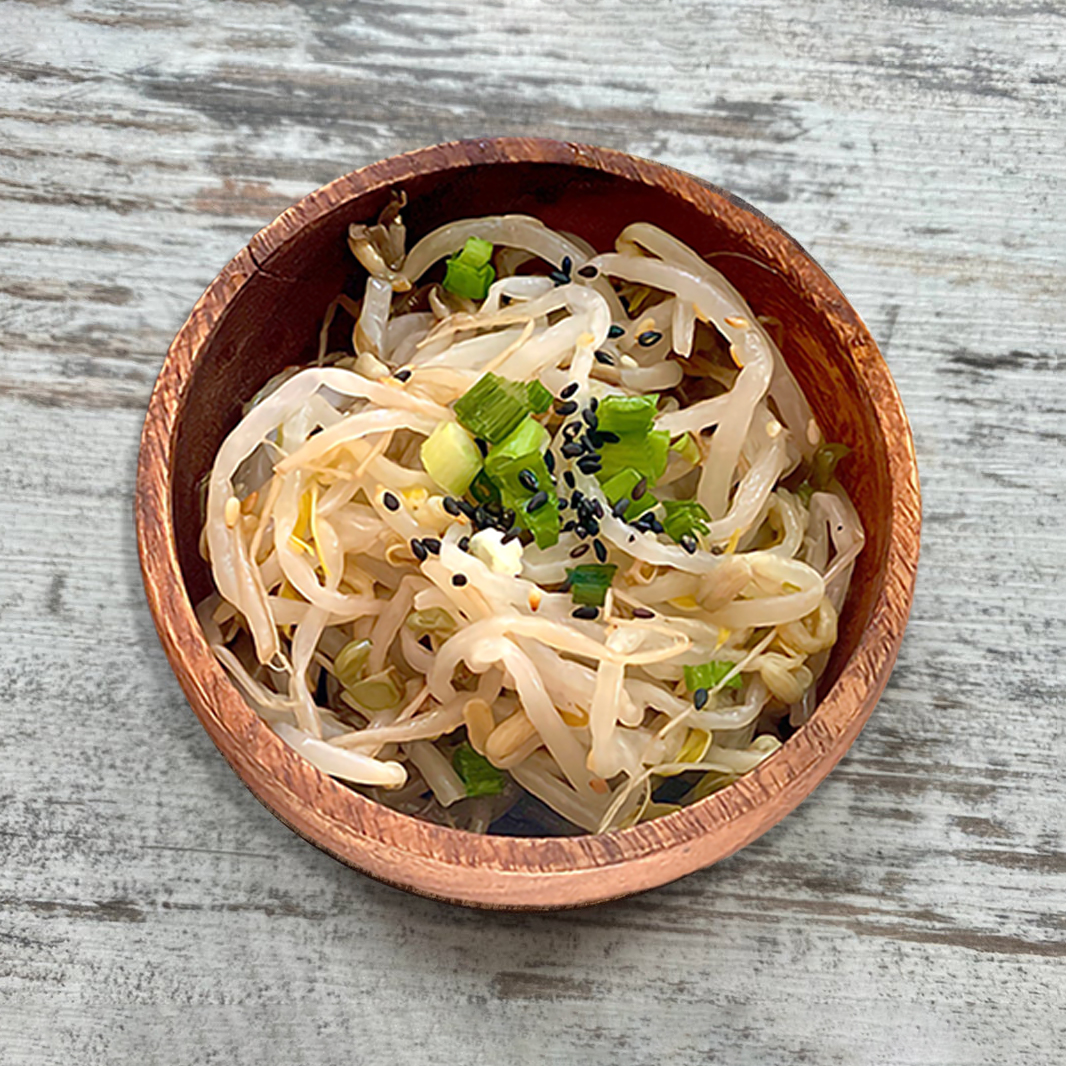 Marinated Mung Beans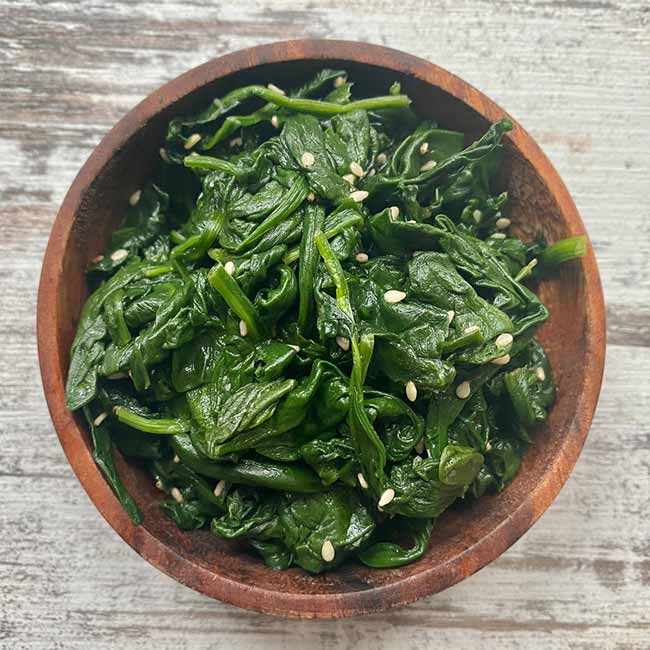 Sesame Spinach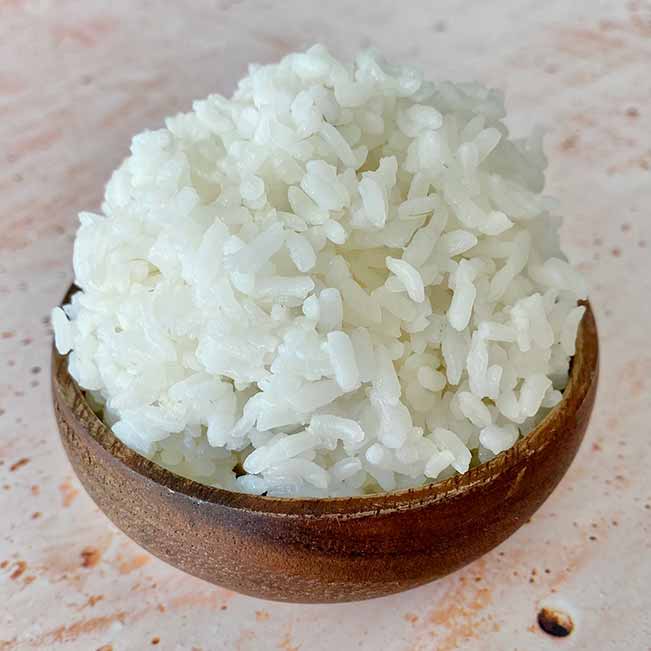 White Rice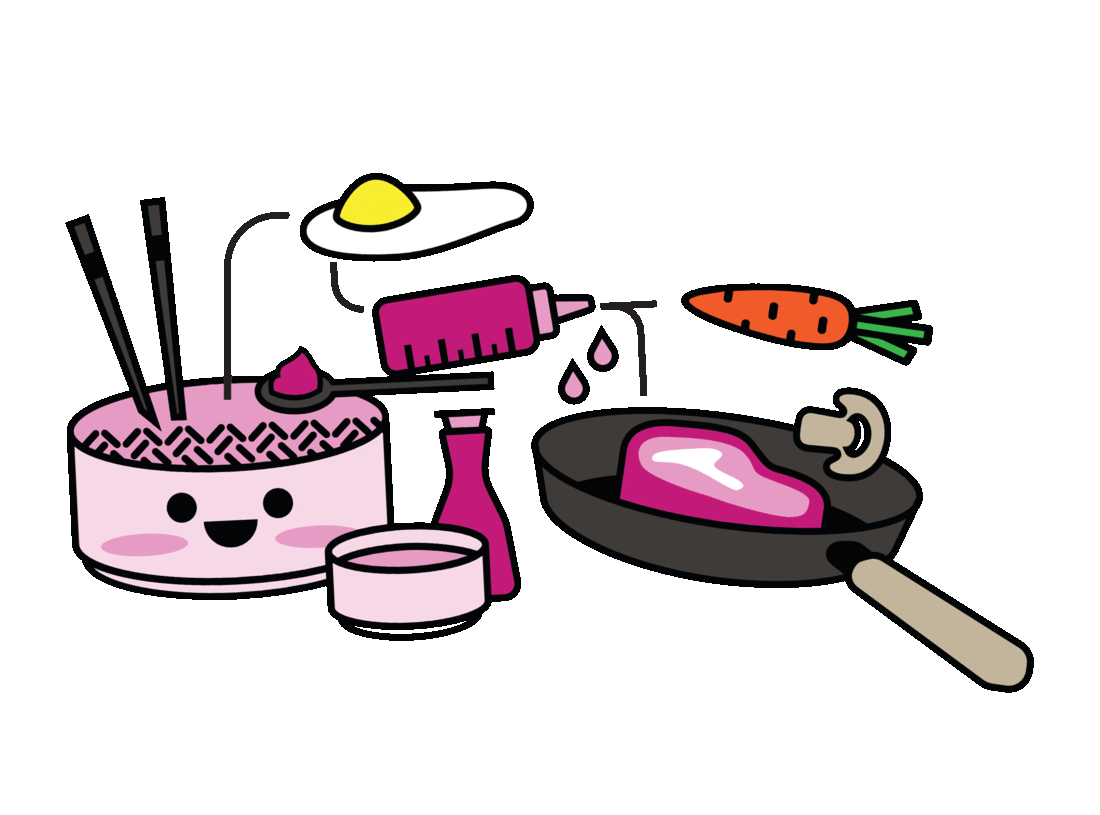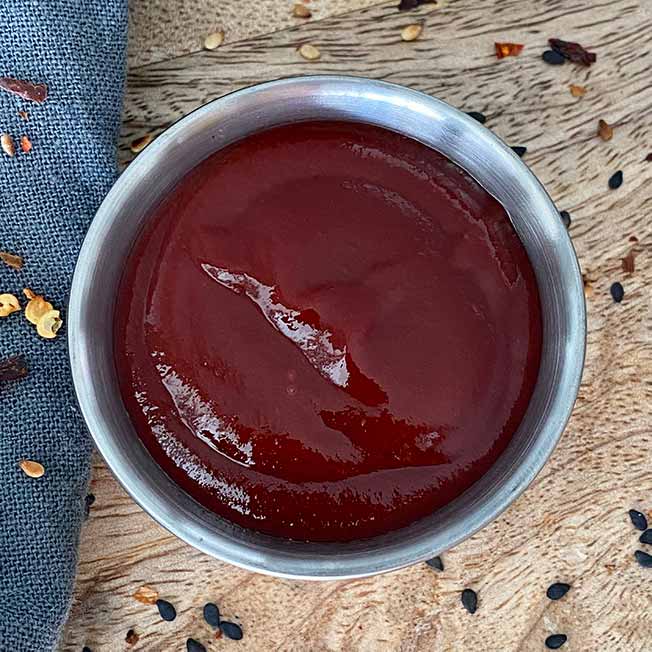 Gochujang
Spicy, sweet, and oh so good. Fermented Korean red chili paste made with gochugaru – our Umma's family recipe.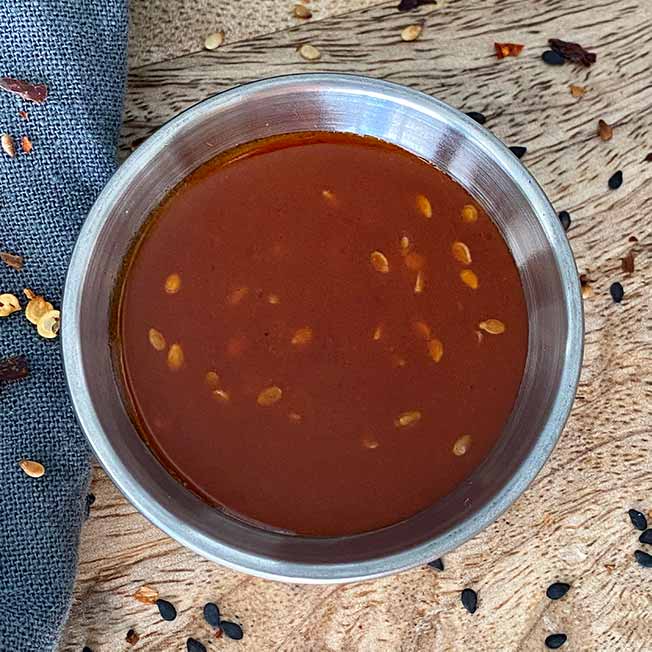 2KG Sauce
Our secret sauce. It's everything you never knew you wanted. Made with gochugaru, sesame, and doenjang. The perfect umami sauce.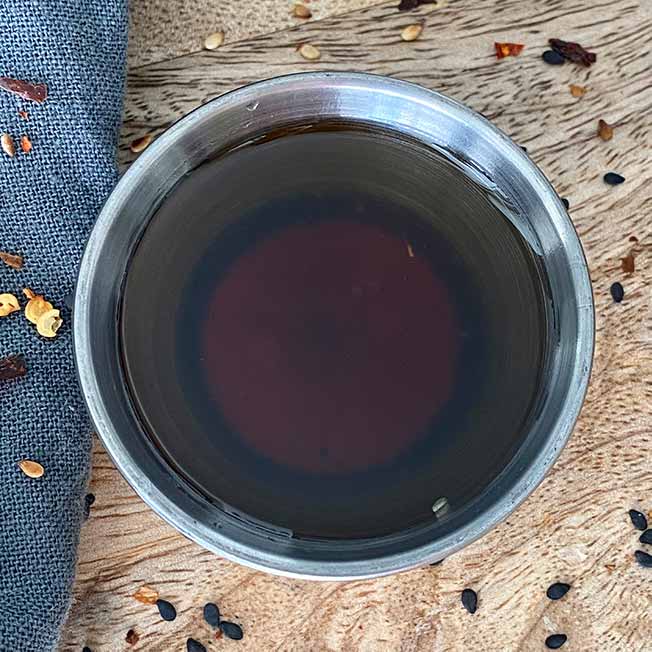 Korean Teriyaki Sauce 
Sunny's secret magic sauce. Light, sweet and savory.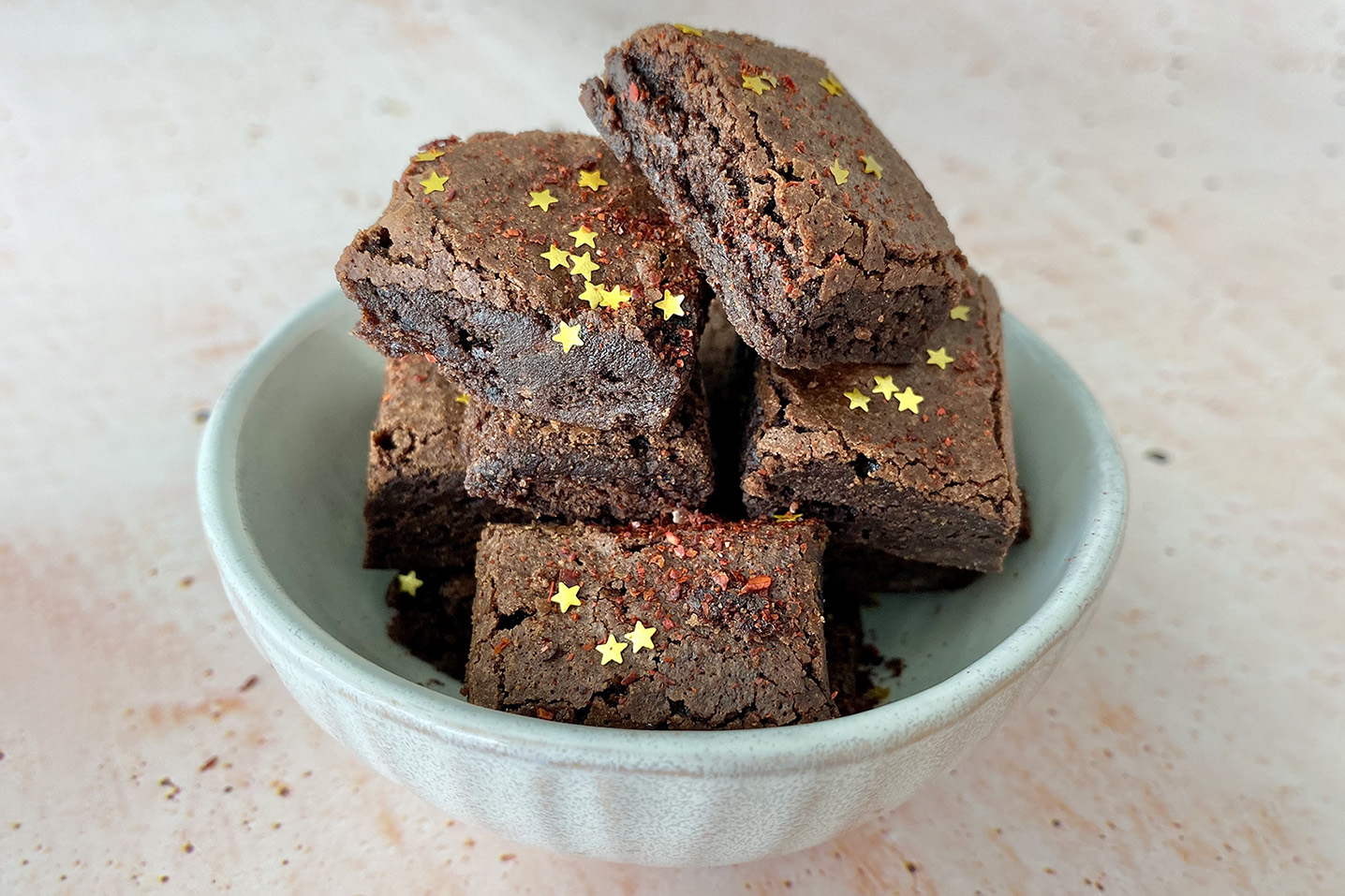 Gochugaru Brownie Bites  
It's ooey, gooey, with a hint of K-Spice! These fudge chocolate brownies with a hint of gochugaru (Korean chili) are the perfect ending to your meal. Contains gluten.
Chocolate Chip Cookies 
3 freshly baked yummy cookies #yum Contains gluten.